School Uniform
All children are expected to be dressed smartly in uniform each day.
Our requirements are as follows: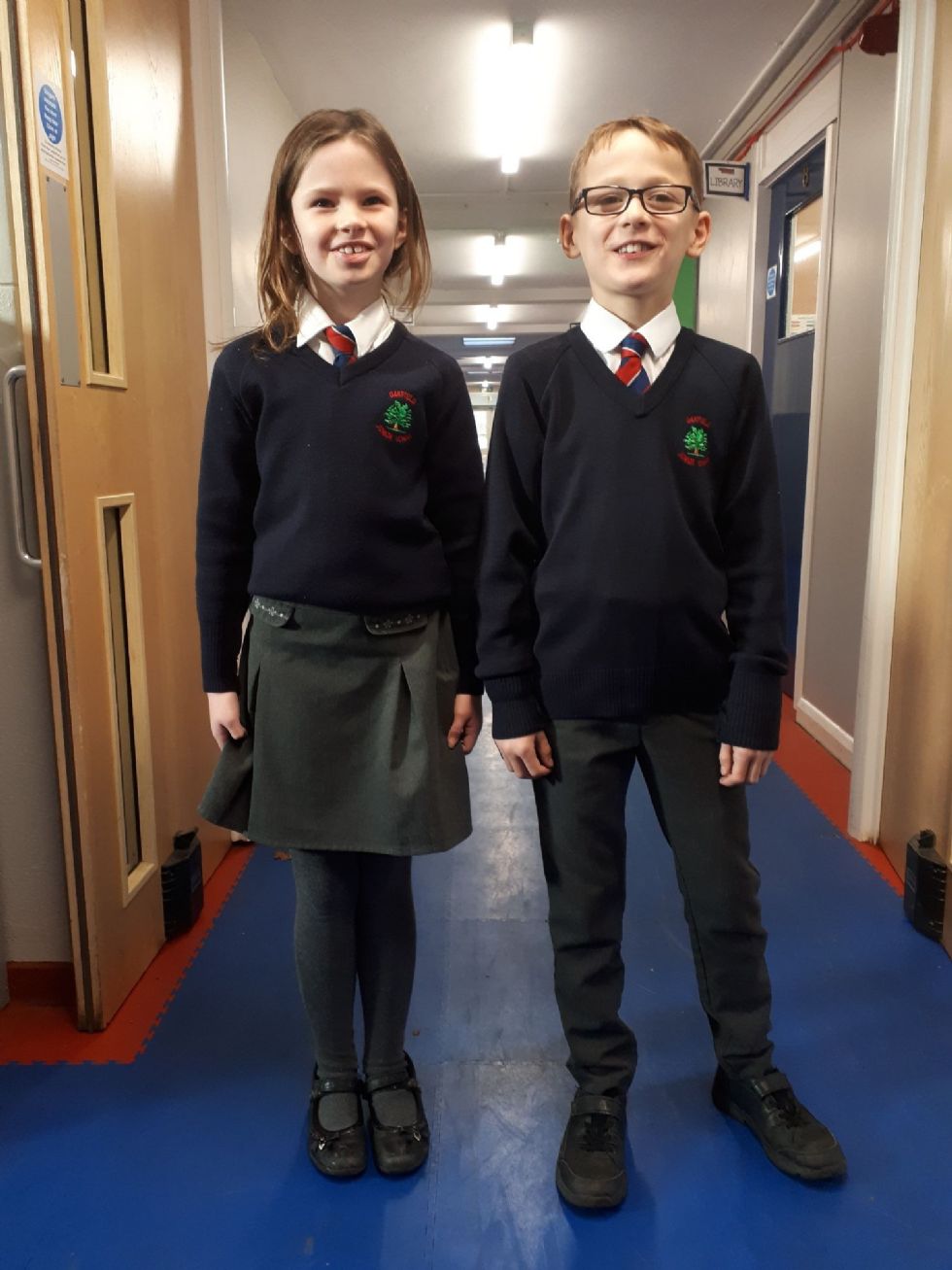 Boys:
White collared shirt (long or short sleeve)
Blue & red stripe tie*
Navy V neck Jumper with Oakfield logo*
Grey trousers
Plain grey or black socks
Black shoes (not trainers)
Grey shorts may be worn during the summer term and from September until October half-term
Girls:
White collared shirt (long or short sleeve)
Blue & red stripe tie*
Navy V neck jumper with Oakfield logo*
Grey skirt or trousers or culottes
Plain grey, black, white or navy tights or socks
Black shoes (no heels)
Pale blue gingham or stripe school style dresses may be worn during the summer term, and from September until October half-term (no cardigans).
PE Kit – girls and boys
White T shirt with Oakfield logo*
Red shorts*
Plain navy Jogging bottoms or tracksuit trousers
Plain navy sweatshirt style top Or Navy PE Sweatshirt with Oakfield Logo* (optional)
Sports socks
Trainers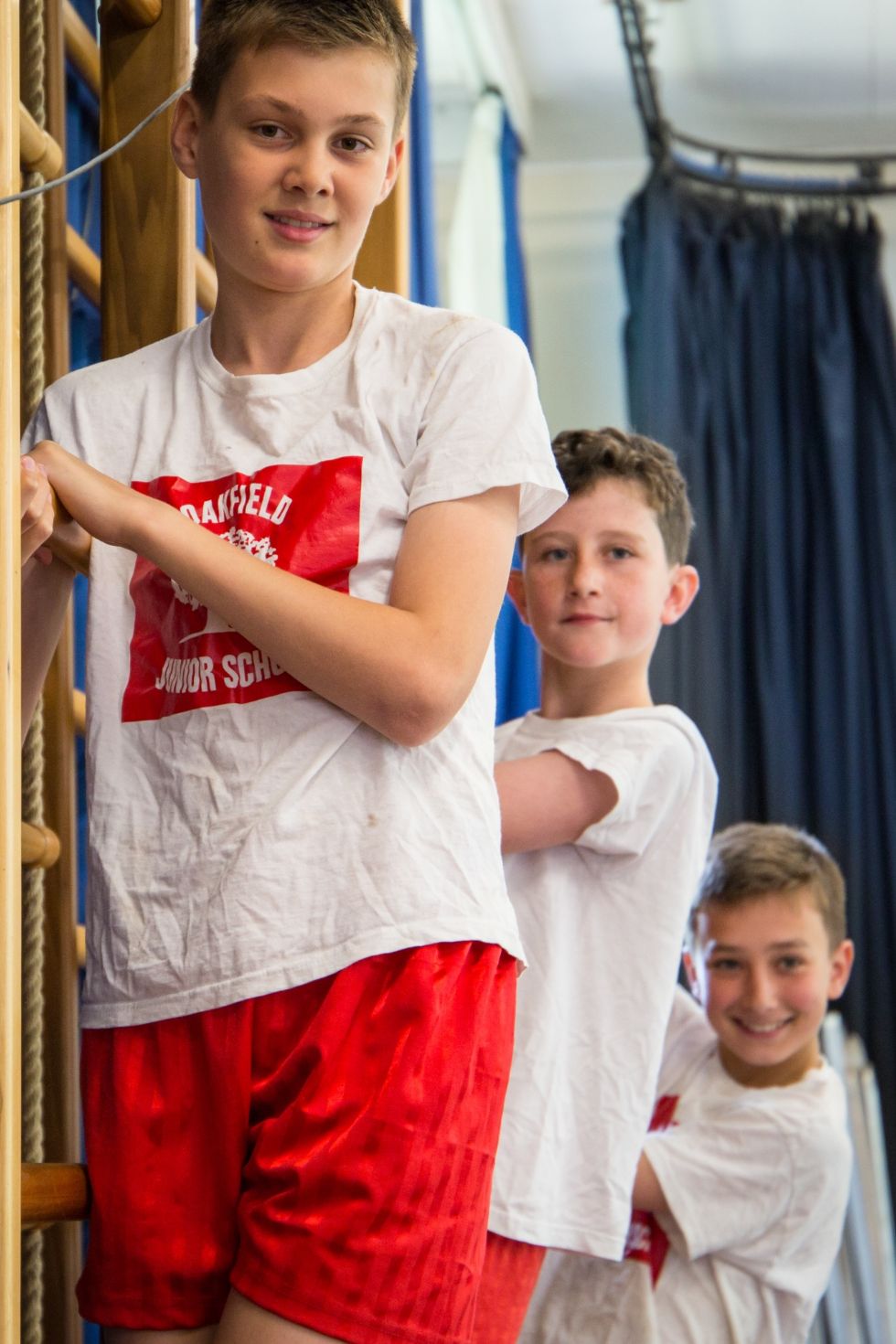 Optional Extras
(for wearing to and from school only, and not as a replacement for jumpers in class):
Navy zip-front fleece jacket with Oakfield logo*
Navy reversible shower-proof fleece jacket with zip-away hood and Oakfield logo*
The items marked with an * are available from our uniform supplier –Fetcham Kit Shop. Other items can be purchased from any school uniform provider. Details of our suppliers are listed below.
Please take the time to ensure all clothing is clearly named, as well as coats, bags, drinks bottles etc.
Purchasing School Uniform
We currently have two suppliers of our compulsory uniform. Ray Lewis is a local supplier, whilst Marks and Spencer items can be ordered on line or by phone. Both offer quality school uniform and both donate a percentage of sales to the school funds. The choice of supplier is down to the parents. Both companies will be in attendance at our annual new parents evenings, so you will have the opportunity to compare quality and prices.
Marks and Spencer your school uniform initiative
Orders can be made via website – mandsyourschooluniform.com
You can link to their website here:
Alternatively, orders can be made by phone: 0333 014 8418 (9am-8pm Mon-Fri, 9am-4pm Sat)
Free delivery on orders over £50. Under £50 spend incurs £3.95 delivery charge. Items can not be delivered to local M&S store.
M&S your school uniform supply ties (full, clip-on or Velcro fastening), navy PE sweatshirts with logo, red PE shorts, white PE T-shirt with logo, navy reversible shower-proof jackets with logo, navy zip-front fleeces with logo. M&S no longer supply our v neck school jumpers.
An accompanying leaflet which details this scheme, including a size chart, is available from the school office.
The Kitshop, Fetcham
•This shop is located at 232 Cobham Road KT22 9JQ Open Monday-Thursday 9am – 5.30pm; and Friday –Saturday 9am – 5pm.
•Contact 01372 451250 or email sales@kit-shop.co.uk
•You can obtain uniform from visiting the shop, or if you prefer they have a dedicated page on their website with all items available for you to purchase on line. You can choose to then collect from the shop, or select home delivery
(+ £ 3.95). This is a secure website accepting all major cards as well as Paypal
Click here to access the Oakfield page on the Kitshop Website
•Please see the Kitshop order form for details of products and prices.
Stickins Clothing Labels
Stikins name labels are designed to be a truly multipurpose name labelling solution.
One pack of our stick on name labels can label pretty much everything and anything so you don't have to buy different labelling products for different items.
Label all of your children's school uniform with one pack of stick on name labels - no sewing and no ironing required. Stikins safely and securely label school uniform in minutes, saving you time for more important thing.
Contact 01270668076
Click on this link to access the Stickins website: https://www.stikins.co.uk
Please quote 14736 and the school will receive a percentage of the sales.